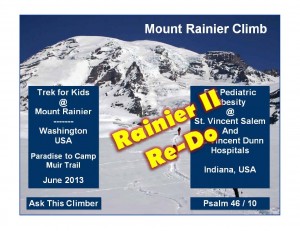 June 20, 2013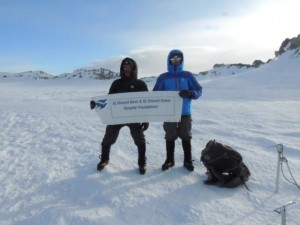 DOVES FLY OVER RAINIER!
St. Vincent Doves flew above the summit of Mount Rainier Monday shortly after dawn! Alas, Walter is not holding the banner which is proudly displayed by new friends and climbing mates Jim and Paul Welsh, father son duo from Virginia. Walter advised his guides prudence / climbing safety dictated dropping out at 11,065 feet above Cathedral Rock. Still with "stamina and fuel in tank" Walter reported having "difficulty  dancing and climbing thru rocky island steep stretches in crampons in the night-time darkness. Even though I am crestfallen not to be able to summit, what a blessing to be here and healthy eight months after open heart surgery. I told the mountain and our Creator God a big thank you!" Walter also thanked all the donors who have contributed in excess of $100,000- to support youth weight management and prevention clinical treatment programs at St. Vincent hospitals. And he thanked his prayer warriors. Back to corn fields and heat humidity of IN tomorrow.
God bless you.
From the Nisqually Glacier, Mount Rainier Nalt Park…Zero degrees…40 mph gusts.
June 18, 2013
These pictures came from Wally on Friday evening prior to beginning his climb.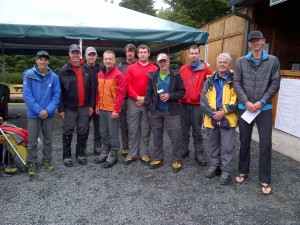 READY FOR SCHOOL
Here's the climbing crew heading for mountaineering school on Friday morning. A couple of hours later we were above Paradise ( difficult to imagine theologically until you understand that is the name of a most majestic view and village at Mount Rainier National Park ). Finally the rains abated, out came the sun, and the shy mountain's cloud shroud evaporated for a bit as you will see in the next photo.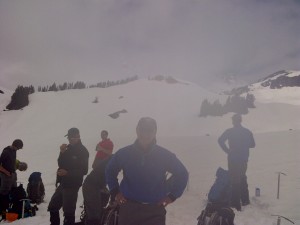 CLIMBING SCHOOL
A robust all-day on-mountain seminar to review / learn and demonstrate climbing skills needed to climb / Descend Rainier safely. This may be the last post until after -God willing- our summit. Climb begins in earnest Saturday.  Our summit day is Monday and will be a 12-15 hour day. You are saying prayers right. I like our crew and guides – many good men. Happy Father's Day fellas.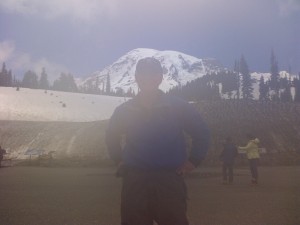 ONE MORE
Mount Rainier from Paradise…Sorries pic misses iconic beauty.
Bedford Times-Mail article on Wally's most recent trek.
June 13, 2013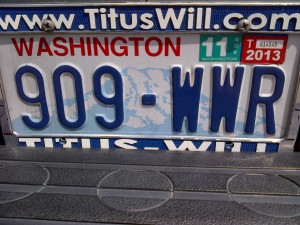 PIC OF MOUNT RAINIER
Still thick clouds in western Washington, but Mount Rainier is so big here it seems like it's everywhere – Even showing up on every car ! Tomorrow is Orientation and Gear Check…Next day school…. And next day the climb begins in earnest. For sure I will see the mountain then.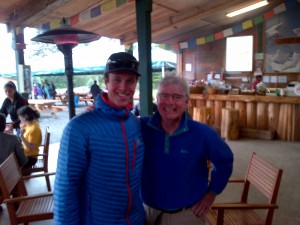 MEET PETE
Meet one of Rainier Mountaineering's best guides…Pete Vandeventer. Pete helped guide me at Aconcagua in Argentina in Jan 2012 and is one of my favorites. While in South America he decided I needed an Argentinian name which is where "Waltero" comes from. Pete will guide a group up Rainier just ahead of mine…and then two days later heads to Alaska to guide a crew up Denali / McKinley. We had a great little reunion Weds night.
June 12, 2013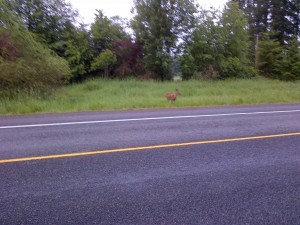 MORNING FAWN
An adolescent deer having a break of grass greeted me at dawn Tuesday from across the road as I walked  to where I could have cell reception. Although I saw the deer up close and personal alas not yet the mountain. Rainier was shrouded in rain and clouds and vaporous mist on drive in yesterday. So allow me to recycle another dawn photo from last year's expedition so you may behold this magnificent mountain.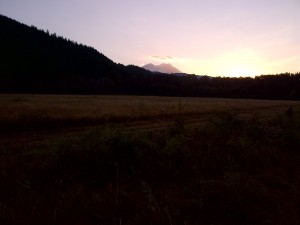 MOUNT RAINIER AT DAWN — New meaning for sunrise service from, In Hebrew, Elohim, the God of Creation. Amen!
June 11, 2013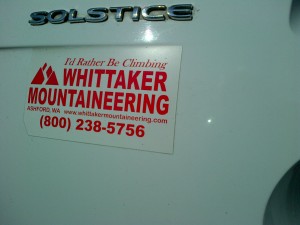 CLIMB WITH BEST – Grateful to again climb with Whittaker and Rainier Mountaineering with whom I climbed in Argentina in Jan 2012 and again last September at Rainier. Such professional and good-humored men and women. Grateful for their support after last year's fall. One of their family members was the first American to summit Everest…at 29,035 the highest mtn on Earth.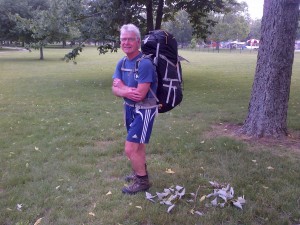 PACK PACKED!
June 10, 2013 — "Test driving" his backpack fully loaded at 45 pounds for the Mount Rainier climb, Walter gets familiar with its feel, weight and balance. Departure tomorrow, Tuesday 11 June. You are saying prayers, right?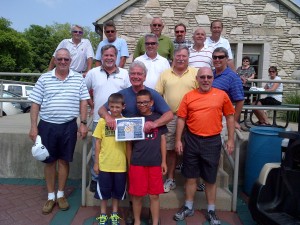 SR AND JR FRIENDS!
Taking time out from golf at Bedford, IN's Otis Park Golf Course. Classmates from grade school, high school, and Indiana University, plus two  special younger friends give Wally a farewellin' word of encouragement the Saturday before he leaves. Otis is located in Bedford, Wally's hometown and home to St. Vincent Dunn Hospital which is one of the clinical sites for L.I.F.E. For Kids weight management program.
ONE MORE WEEK!
Walter Glover is well and has resumed climbing! Once again he will go up to raise money for youth obesity prevention and treatment. Having now raised $100,000 with fund-raising climbs around the world on five of the Seven Summits, he returns to Washington state 11 June, one week away! You may remember he fell there nine months ago. The fall on 12 Sept 2012 superficially disclosed broken ribs. Most importantly, doctors found an aneurysm on his aortic arch – the main distributor of blood to the body from the heart. Three aneurysms ultimately were detected. Following 12 weeks medical leave for open heart surgery, Walter returned to pastoral care chaplaincy at his St. Vincent Hospital ministeries in Salem and Bedford after the New Year. He also returned to Colorado to ski and climb – and that went well. While there, he celebrated his 65th birthday.
Now retired, Walter continues to raise money for St. Vincent youth obesity prevention and treatment programs. And to advocate for senior wellness. "Two mountaineering friends suggested Rainier saved my life with the fall. Well, that being the case, I think it is important to offer gratitude, so ,I'm going back to thank the mountain, and its Creator. And, as long as I am there, this time I want  -God willing- to get my boots  and my bootie up on the summit," Walter said with a laugh pointing at his feet and his backside. Say a prayer please for safety and favorable weather as a number of this season's summit climbs have been cancelled halfway due to adverse conditions, and for summit success. Partner with us with a pledge if you will. See the tab marked "Rainier Brochure " to find a pledge form for giving info and opportunities.
FRIDAY / 10 MAY 2012
ONE MONTH ONE DAY     
PRE-RAINIER II RE-DO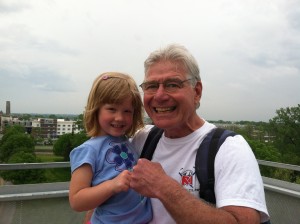 CLIMBING DREAM FULFILLED – Allow me to introduce my granddaughter:  Siena Grace Glover, age four. Siena appears in these pages because she / we fulfilled a dream – Climbing "Mount Columbus," a 100 foot (OK,  98' elevation) outdoor tower at Columbus' Mill Race Park. I train on the Tower for my Rainier II Re-Do most days. Siena's folks  and I discussed a dream I had last Winter during heart surgery rehab – for Siena and I to climb the Tower. The dream energized my recovery hopes and intentions – Yet another reason for wellness.
Siena's mom, Kathryn, joined us on the adventure. I asked Siena at the imposing Tower's base what she thought of the structure (which she often saw but never climbed)…"Oh Papa, it's big." Next question – "Do you think you can climb it?" Response:  "I don't know. But I'll try." Fearless, Siena walked right up to the first set of steps and, as mountaineers speak of, started putting one foot in front of the other. Siena never looked back, nor was she distracted by what was in view below or above. This 4 year old kept putting one foot in front of the other sailing upward. Carrying a 33 lb. pack and wearing climbing boots, I was wont to teach Siena some Swahili I learned at Mount Kilimanjaro – "Poley poley." English translation:  "Slowly slowly." Guides like my Godlisten so advise Kili climbers so they don't succumb to mountain elevation sickness. Dang – Siena kept going up and up at the quick pace. To perhaps slow her, I asked how she was doing. Cheerfully she says, "Good, Papa." And she kept climbing. No "poley poley." Dang. As we neared the top, I inquired again how she was going along. Siena said, some breathless, "Papa, my legs are getting tired." Undaunted, she still never ever paused going upward until we reached the top observation desk to gaze out over downtown Columbus. She noticed the Courthouse where her dad (my son Dominic) practices law. Siena recognized other familiar landmarks, and commented on the beauty of nature. My awesome granddaughter did it – Tower Summit! And we did the celeb photo shoot you see as proof.
I started calling Siena "the climbing leader." She delighted in that and improved it to: "Climbing Lady Leader." As if our Tower ascent was not adventure enough, she next asked to climb what she called "Mother Earth," the 40 foot high earthen mound on the back side of the Mill Race Park Ampitheater… several times! Then, at lunch at The Commons in downtown Columbus she wanted to climb the indoor apparatus that reaches from ceiling to rooftop – another 30 feet I expect – twice!  Enjoy these pics of our climbs! And for those of you who haven't had the pleasure – I'm glad you got to meet my granddaughter.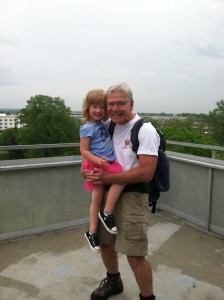 After Rainier II maybe I'll tell Siena -and you- about my first trip up the Tower. Oh my!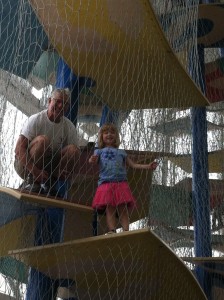 ####
ANEURYSMS, SURGERY, WELLNESS AND COMMITMENT
Sept. 12, 2012, Walter "Wally" Glover's trek was thwarted at the base of Mount Rainier, America's iconic glacier mountain near Seattle, WA. Wally fell during a training exercise. Upon having x-rays for broken ribs, an aneurysm was noted by the physician in Washington. Wally was told he could not climb and was sent home to see a cardiologist.
June 11, 2013, nine months and one day after returning home to Indiana from Rainier with three aneurysms, one that would require open heart surgery, he will return to climb Rainier. Wally calls his latest mountaineering fund-raising initiative for youth obesity, his "Rainier II Re-Do." The recently retired chaplain from St. Vincent Dunn and St. Vincent Salem Hospital ministeries said two mountaineering friends told him – "Rainier saved your life." Wally's response: "Seems to me it is important then to return and express gratitude in person to the mountain, and certainly to its Creator God for my healing. And as long as I am out there, this time I want to get these boots (pointing to his feet) and this bootie (pointing to his backside) up on top of the summit!"
Wally has climbed on five of the Seven Summits, the highest mountains on each of the seven continents. Plus, there was his shortened climb on Mount Rainier where he went to learn and demonstrate competencies to advance to yet another of the Seven Summits in Alaska in May 2013 to Mount McKinley / Denali. That wouldn't happen. However, collectively, the climbs have raised $98,000 with the donated money used to start three youth weight management clinical  programs in Salem, North Vernon, and Bedford. These initiatives at St.Vincent hospital ministeries in rural southern Indiana were "imported" from Peyton Manning Childrens Hospital at St.Vincent Indianapolis. Children and families in these communities remote from Indy would have travel challenges to reach the program. So the "mountain moved" to them and new programs were founded in each community by PMCH staff.
Youth obesity and senior wellness are important to Wally. It may be medically  imprudent, according to his "medical dream team" at the St. Vincent Heart Center of Indiana, for Wally to continue to pursue the high elevations and extreme conditions of the remaining two peaks of the Seven Summits. Lower elevation mountains seem more reasonable.  So the 65-year-old goes "up" again to benefit overweight youth.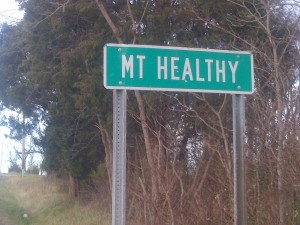 MOUNT HEALTHY
This roadsign along IN Road 58 marks a little village in southwestern Bartholomew county, Wally's home county. Mount Healthy is probably 700 feet above sea level, a far cry from his PR of climbing 21,063 feet or four miles high in Argentina. But the beauty of the name parallels with intention of the climbs as they support youth obesity, and Wally's modeling, at age 65, of senior wellness.