UPDATE…8 FEB 2012
Thank you for following along the mountain climb's web site and for your blog posts, and for your email messages of support, and congratulation. Also for your financial support of youth obesity. Moreover, for your prayers. Today is one of my first days (daze) back at "school" / the hospital.  I appreciate your concern. I saw some awesome and awe-filling sites courtesy of Elohim the Creator God…saw some danger zones too.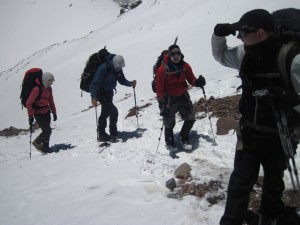 ACONCAGUA UPDATE — Walter-o (new nickname) has returned to Indiana from Argentina and here is a  mountain update. The first photo, PIC FROM CAMP 2 AT 18,300 ' ELEVATION…Completing the initial carry of gear into high Camp 2, Wally (second from right) is well ready to rest ! This climb to an elevation of 18,300 feet resulted in two team-mates retiring from the climb due to medical issues.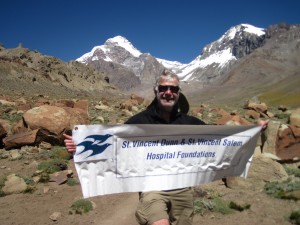 The other pic of Wally with the banner is a VIEW FROM THE VACAS RIVER VALLEY…After the Summit bid in temperatures of minus -25 degrees below zero, this view portrays the incongruent awesomeness of the hot desert-like landscape which heralds Mount Aconcagua – the Stone Sentinel as it is called. At 22,841 feet in elevation, (at left) it is the centerpiece to a cobalt blue sky. Walter reached 21,063 feet on Aconcagua…4 Miles High, a personal record. When you figure his age of 63, said another way his new PR is 21,000 feet in elevation + his age ! At last count $10,000- has been raised for childhood obesity programs at St. Vincent Salem and St. Vincent Dunn in Bedford. Watch for further updates.  (Photos Courtesy Bryan Blalock.)
So no I did not reach the summit…within spitting distance…well two hours away…before my foot placements in the crampons started to loose their precision and go south. The prudent decision was to retire…guides and team-mates urged me to continue on seeing strength in me perhaps I didnt see…but after 15 minutes more that was that. I didnt want to be a danger to others nor to me. I still had to get back down the mountain to Camp 3. On our summit day four people in another group (whose guide I talked to in Mendoza) suffered cerebral or pulmonary edema. I personally saw another rescue. Toes / fingers were in peril and lost. One of our guys got a chopper evacuation. I expect there will be future mountains. However, I never ever expect to be gone so long again from Lori, Dominic and Kathryn and Siena, and Andrew and Jill. And they know it.
So now I know what minus 25 below zero feels like…To bend in unrelenting winds howling at 60 miles per hour and to be blown off my feet when they gust to 70 mph…and to stand @ 21,000 feet in elevation + my age! And to not shower for 15 days. Yes, I was the oldest guy in our group. One newspaper prematurely turned me 64 before I left…does this mean I'm 65 on my birthday!?
Other glimpses from Argentina and Aconcagua:
-Stone and snow and air are the elements at high altitude…absent are lush green growth, muted color of mountain flowers, touch of gnarly tree bark, and good smells of the Vacas Valley with cheery birdsong and the rushing sound of glacial-filled chilly cold rivers when you cross them with the current tugging at your legs….
-Geodynamic forces with titan-like moves of tectonic plates and oceans floors that hundreds of millions of years ago caused the seismic uplift that formed the Andes…and Aconcagua the highest mountain on the planet Eartrh outside of the Himalaya of Asia….
-Spirituality with our Team embracing regular prayers and interactive reflection moments to begin or end our ever-challenging days…the time to quietly reflect on the Maker with the mighty mountain-making hand who as Scripture says, "owns the mountaintops"….
-To know an aluminum cross awaited the climbers summiting Aconcagua at its apex at 22,000+ feet as surely as the Southern Cross constellation graced the bejeweled night sky that also featured a moon sliver gathered into the shape of a bowl, a site peculiar to the Southern Hemisphere which last I saw on Summit Day at Kilimanjaro three degrees south of the Equator…just as I did on Summit Day at Aconcagua…and to know there was a tiny Marian shrine at Camp 1….
-To have the clarity and humor of my mind at 21,060 feet, my high point, to transform the elevation into 21,063 with Gabi's help of his altimeter. When to verify our elevation, he checked his instrument and read: "21,060," I responded, "No Gabi I think it says, 21,063." Gabi said, "No Waltero, it says 21,060." I responded, "Gabi you are not following me. I'm 63 years old. I want to climb 21,000 feet plus my age, 63." Gabi smiled and said, "Oh yes Waltero, I see that now the altimeter says – 21,063 !"
-And, Our "dream team" of nine guys –none of whom had ever met- who were so individually and collectively awesome, so supportive, so encouraging and helpful to each other. These men and our three excellent guides made a special mountain even more special. Thanks fellas…you are imprinted on my memory. Gabi, Pete and Gilbert…I so appreciated your leadership.
This climb is dedicated to the young patients and their families who participated in the L.I.F.E (Lifetime Individual Fitness and Eating) For Kids youth obesity programs at St. Vincent, and to the clinicians who care for them with such compassion and competency.
Thank you so much to our donors who thru the climbs have contributed more than $80,000- to help fund the youth obesity program, which was founded founded at Peyton Manning Childrens Hospital at St. Vincent, and now exist at rural southern Indiana hospital ministeries.
This climb means I footprinted five of the Seven Summits…the highest mountains on each of the Seven Continents…and gulped for their thin air so void of oxygen ! Everest…Kilimanjaro…Elbrus…Kosciuzsko…Aconcagua.And what of the Vinson Massif in Antarctica, and Denali / McKinley in Alaska / North America…Well…Stay tuned.
Mark Fritzy's Feather commemorating the Hoosier Seven, and our families, and loved ones  was released @ 19,500'  at Camp 3…watch for it !
Wings for the Journey children and family members were prayed for at Independencia Hut at 21,000 feet, as close to heaven as I'd be on this mountain. I told all the children "hello" and prayed for their bereft folks for mercy, grace, faith and peace.
In fact, at this time of the year given the later climbing seasons at Everest and the Karokaram, our group were the highest people on our Summit Day on the face of the Earth !
Waltero
Gracias ah Dios…and…God bless you.