Happy Tuesday.
Several weeks ago we anoounced to you that Walter Glover was headed to Spain to trek the 490 mile Camino Pigrimmage of St. James up / down / and across Spain. Wally relayed results of the trek while he was still in Spain at Santiago at the conclusion of the trek. Following is a reflection on his time in Spain written after getting back home. This update includes an accounting of the donations raised to date to prevent / treat youth obesity at our three St. Vincent hospital ministry clinics in Salem, North Vernon and Bedford, and Wally's thanks for your generosity. There's a stirring video of the Cathedral of St. James incensing ceremony at the Pilgrims Mass attended by thousands. You'll meet some of Wally's new friends made in Spain. And you'll read Wally's words that answer the question "What's Up Next."
Thank you for following our blog.
Melissa Richardson, St. Vincent Salem  
10/21/14
"BACK HOME AGAIN IN INDIANA" – Words of this Hoosier's favorite song sounded sweet to me as I returned home from The Camino and Spain. It was so wonderful to be reunited with my family after more than a long month away. I scarcely noticed the windy chill and wet conditions in Indiana – until I caught a cold! It was this time last year, amid the onset of Indian Summer and the first anniversary of my open heart surgery, that we announced the plan for the Camino expedition to benefit the youth obesity prevention / treatment clinics at our three small southern Indiana St. Vincent ministries. 
It is fitting therefore, as the second anniversary of my successful surgery at the St. Vincent Heart Center approaches on 22 Oct., that I share with you the results of my 34 awesome days in Spain.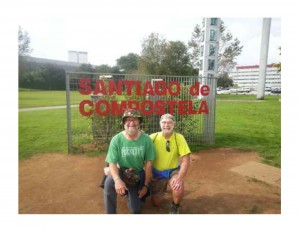 Camino at the End – Here we enter the city of Santiago and a couple more miles later, we stand at the Cathedral.
HIGHLIGHTS – Some highlights I tell family and friends include:
1) Worshipping in cathedrals and churches that were built when Columbus sailed from Spain to the new world – Yep, those sacred spaces are even older than me :). One of these churches carried the name of my son Dominic – Cathedral of Santo Domingo (Saint Dominic); Another carried the name of my son Andrew – The prominent Church of San Andres (Saint Andrew). Oh my: Was there a resemblance between Andy and Dom and the saints' statues ? 
2) Sunrises courtesy of Elohim, from the Hebrew, for the Creator God, which were absolutely awe-filling (Check within this blog site for breath-taking photographs), as were the rainbows.
3) I met so very many lovely people and experienced cultures from so many circles of our world: Brit buds Mike and Paul; and Adrian and wife Pat…the Brits' and my pal Paddy, and Shelly, and Elaine the RN all from Canada…David from Tel Aviv…Dr. Dennis and his wife from Germany…Christine from Buenos Aires who knew Pope Frances when he was still a parish priest…Carol the RN from Kansas City…Jean the Camino author from California…Linda and Michael Barrett from Cincy…The lovely young couple from Latvia who surprised me with dinner…The lovely Asian family who surprised me with breakfast for dinner…Jim the Notre Dame grad from Seattle who had climbed Rainier and his son Jack from Copper Mountain, Colorado – Two of Camino's fastest trekkers…Teenage cousins Theodora and Anna from Denmark…The Israeli girl cousins who kept Kosher while listening to American music including a great CD by Nora Jones, one of my favs…Mary and Mike from Ireland…The age 20ish Norwegian gals Benadicta wasn't it, and her friend…The wonderful couple Karsten and wife Birthe (say Bee-a-tah) from Copenhagen who befriended me following my injury as together we finished the last week of the Camino and all enjoyed time together in Santiago…Juliano from Italy…The exuberant and handsome Basque lads with their big smiles clad in their green shirts and traditional hats…Plus my Columbus friends Jim and Rosie Haro who were my Camino mentors, their son Andrew, and Vivian and Ed Eckerly.  
4) I learned about pain all over again and how important it is to be resilient and creative amid it. ("Smart" helps too right Kit!)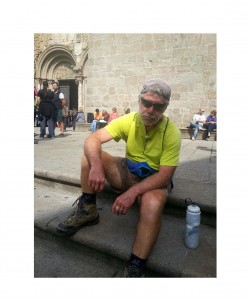 The End! – Waltero The Pellegrino (pilgrim) is also a wee bit weary after his 310 miles on Camino!
And, most importantly:
5) Thanks to lovely / generous people like you, we raised more than $11,000- as financial gifts continue to roll into St. Vincent Salem, Jennings and Dunn. This means that since what began as my quest of the Seven Summits, the highest mountains on each of the seven continents, we are nearing $125,000 in donations received to prevent and to treat youth obesity in evidence-based clinics in our small southern IN St. Vincent hospital ministries of North Vernon, Salem, Bedford and their surrounding communities. The money you give is used largely for scholarships to insure accessibility and affordability for all.
BOTAFUMERIO – In the last blog entry I expressed hope I'd be able to share the stirring video clip of the incensing ceremony during the daily noontime Pilgrims Mass at the Cathedral of St. James in Santiago. Unfortunately, the file was too big for our IS system to handle. Fortunately, Lori suggested I search for a "You Tube" video to fill the bill – what a great idea Lori had! My amigo Paddy had called the ceremony a "wow spiritual moment." I hope when you view the video you will agree.
More than 72,000 views of this video are recorded on You Tube. As you watch I'd call you attention to what you hear (the sacred music and voice) as well as what you see.  It may help to understand that incense serves the church with what is called a "sacramental." While not a conference of the grace received from the Holy Spirit in the way sacraments such as Holy Communion do, sacramental's including Holy Water and incense "prepare us to receive grace and dispose us to cooperate with it" ("Catechism of the Catholic Church," pg 416.)
To access this video go to:http://youtu.be/bUxSdgKnYkQ
If this doesn't work for you then Google: Botafumerio – Santiago de Compostelo – You Tube.
I've attached a close-up picture I took of the thick ropes used by the crew of eight monks, entrusted with manipulating the so-called "thurible." Keep your eye on the monks, dressed in red and appearing in the lower right of the video, as they create the inertia to swing the incenser. So surprised was I to see what material the monks used to keep the rope ends from unravelling – something you'd find in most American handymens toolkits ! Must work – right ! To read more about the incenser, google botafumerio. Interesting reading.
Botafumerio Ropes – These are the thick ropes the monks use to propel the Botafumerio. Grey tape look familiar?!?
Remarkably, this video was shot in almost the precise seat I was sitting in when Karsten and Birthe and I attended our Pilgrims Mass attended by an estimated 1,000 people who filled St. James Cathedral. The videographer is seated one seat to the left of where I sat. My video was fairly good but I will allow this one is better. So thanks to whomever shot it. Incidentally, at our Mass, 11 concelebrating priests joined the primary celebrant – an unusual circumstance for so many priests. 
GRATITUDE – Now, My thanks to all of you for following the  expedition and your donations to 2Trek4Kids and your support of me with your many blog posts, your emails, voice mail messages, and Viber communications. And for welcome home hugs, and back rubs :0. Thanks especially to Melissa Richardson at St. Vincent Salem for serving as publicist.
PRAYER REQUEST – Also, I have a friend in North Carolina for whom I ask your prayers as she re-enters chemo for cancer. Just as St. James is the patron saint of Spain, St. Peregrine of Italy is the patron saint for those suffering from cancer. Please says prayers won't you. Direct them through St. Peregrine if you wish. 
LAST WORD – Finally, I am always asked when I return from an adventure what is "next up" on the agenda. I say it is inappropriate to talk too soon about what is next. To do so causes a disconnect in the remembering of what is so precious now. In the gospels, Jesus' mother Mary "treasures in her heart" the memories of his early years. I want to cherish Camino; No need to suffer the penalty of diluting it to prematurely get ahead of myself.
A newspaper reporter in Columbus, this week, observed I have been raising money to combat youth obesity at St. Vincent ministries for five years now beginning with the Kilimanjaro summit in 2009. He wondered aloud and asked about other options, dreams, expansion. I told him "I am not a prophet."  If you know me, you know my capacity to dream, and about my intention to help others. On Camino I was privileged to minister to a man who had lost his wife in a tragic bicycling accident.  And, the reverse: I was blessed to be ministered to by staff at the Hotel Puerta De Sahagun when I needed the city's hospitalio where I was cared for as a patient.
For now, Autumn is the beginning of  a nesting time of year. I saw farmers in Spain  preparing for harvest and beyond. And here at home now Hoosier farmers are preparing for Winter. Lori and I will do that, too. It's a time for interiority, for inventory, for soul nurturing and maintenance. However, that shouldn't be mistaken for inaction nor inactivity.
My volunteer time will be dedicated to bereavement work at Our Hospice of Columbus, a new bereavement program forming at the Columbus Senior Center, and for bereft moms and dads and families who have lost children in the Wings for the Journey group in Bartholomew county. I also help as a volunteer with a family-friendly state-wide bike ride in Columbus that raises awareness and money to fight youth obesity, apart from 2Trek4Kids. And I support Baptist Homes of Indiana with its "Ministry on Aging" conference. 
In partnership with Lori, we look forward to more time with one another, with grand-children and their parents, and her daughters and family. And as Winter comes I / we will continue to train. For what? For life of course. For wellness. For fun. And in doing so, to thank God for our bodies, our minds, and our spirits.   
Options, dreams, expansion…not just yet.
Ah, but stay tuned.
The forecast has more brilliant sunrises and rainbows.
Thank you.
And, may
God bless you.   
If you haven't made your gift to 2Trek4Kids, please do so in the next few weeks so we may close the accounting on Camino.
A brochure to assist you is attached.
May I call your attention to its photos of the children. See their excitement, interest, intensity and enthusiasm. There's been about 100 kids participate in the program. More need to attend. Help make it possible, won't you.  
 – Camino Completio / Espanol: Done! – 
The Way Of St. James / El Camino
310 Miles / 31 Days in Spain
September – October  2014
Raising Awareness and $s
Benefitting Youth Obesity
Prevention / Treatment Programs
at St. Vincent Ministries
Walter Glover, MTS
Pastoral Care Chaplain (Retired)
10/1/14
CAMINO CONCLUSION — My Camino came to its close after five final ambitious days when I averaged 14 miles a day to reach Santiago de Compostelo and its awesome and beautiful Cathedral of St.James. Alas, back pain interrupted my quest. I experienced it first in Pamplona four days into the trek. A rest day and a switch to a smaller backpack revitalized me. But, just beyond the 250 mile halfway marker, a significant onset returned, sending me to the 'hospitalio' in Sahagun. Even though I didn't understand the physician's Espanol words, he made it abundantly clear (imagine that!) that I needed a minimum three days rest along with a regimen of heavy duty anti-inflammatories. This compromised my timetable, so I boarded a train and traveled 100 miles to Sarria. Sarria is situated 100 kilometers from the Cathedral and is the required distance to earn the prized compostela certificate you see me holding below. It says the recipient is a bona fide Camino pilgrim. In accomplishing those final 71 miles in the five final days.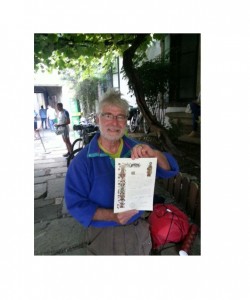 I may say I trekked 310 miles in 25 days with three of those for rest days. Thanks for all your prayers. I am certain, along with the doctor's advice, they put me back on my feet and kept me upright! My Camino goal fell short of 500 miles. This reminds me of what the famous mountaineer, Ed Viesturs, of Seattle says, "Reaching the summit is optional, but getting down safely is mandatory." Continuing the full Camino with an impaired back would have been dumb. The quest needed to be reimagined.
So, it is almost time for the Pilgrim's Mass at the Cathedral. Know of my prayers for you and the children/famlies in the three programs and their clinicians while I am here. I hope I may see the crypt of St.James in its Reliquary Chapel and whisper why I came and express my gratitude for safety and wellness. I wonder what Jesus' apostle may say to me. I hope, also, I am privileged to see the swinging of the giant incense burner, Botafumerio, during the Mass.
The picture below shows me with a lovely Danish couple, Carsten and Birthe who befriended me as I resumed the Camino. Thanks Carsten and Birthe! We stand atop the steps at the Cathedral entrance having just finished the final stage of the Camino. AS with my Camino mentors, Jim and Rosie Haro, it is the Daniel's second trek. How do they do it!?!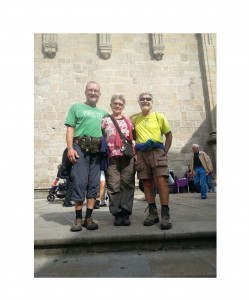 Another picture below shows a tuckered out Pellegrino pilgirm backdrop… me! As I take a step to catch my breath. I trust there's a back and foot rub awaiting me when I next hear "Back Home Again in Indiana"!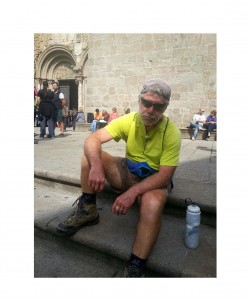 I will post a few more blogs when I return home. Hopefully, I will be able to include a stirring video of the botafumerio incensing the 1,000 Pellegrino attending the Pilgrim's Mass. As my Camino pal, Pads said, "It was a cool, powerful, spiritual grace."
BUEN CAMINO – CONCLUSION — God bless you. Thanks for joining the expedition. This Camino was brough to you by the three southern Indiana St.Vincent hospital ministries youth weight management/prevention treatment clinics at: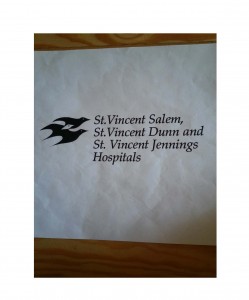 9/30/14
Remembering the children — The Camino trek up, down and across Spain benefits overweight children in Southern Indiana.
Three clinics are housed at St.Vincent hospital ministries at Salem, Jennings and Dunn. Donations are largely used for scholarships to ensure access and availability for all. Thanks to generous people like you, approximately $120,000 has been raised for these three ministries. Please support 2trek4kids. See the Camino brochure on this blog to learn more about L.I.F.E. for Kids (Lifetime Individual Fitness and Eating). God Bless you!
–Walter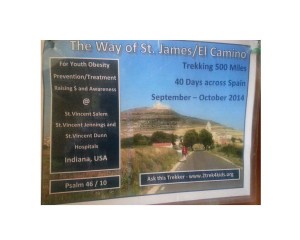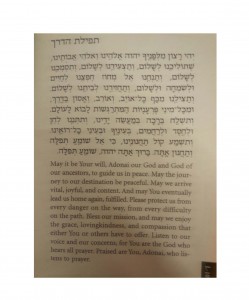 Rabbi Arnold's Prayer, above — My good friend, Rabbi Arnold, shared this prayer with me before I went to Kilimanjaro in 2009. I have carried it with me on all my expeditions praying it daily as I do now here in Spain. See the two words precisely in the middle to note how fitting the prayer is on The Way of St.James. Feel free to use this prayer in your own life.
9/23/14
Two rainbows in 24 hours! In the book of James (for whom the Camino is named) God is called "The Father of lights." He provided two beautiful rainbows in 24 hours. Sunrises and trekking in the predawn star plus moonfilled sky = awesome! Beyond halfway, thankfully. Some aches and pains are developing, so prayers, if you please!
9/17/14
Elohim, the Creator God's awesomeness is abundant! Here are some beautiful sunrises for you to enjoy. Enjoy! Buen Camino…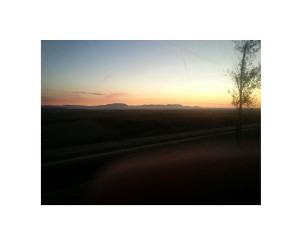 SACRED SPACES — These date back to before Columbus sailed to America… More and more man-made magnificence to honor the Father, Son and Holy Spirit. Nonetheless, those chapels at Salem, Dunn and Jennings remain beautiful worship spaces.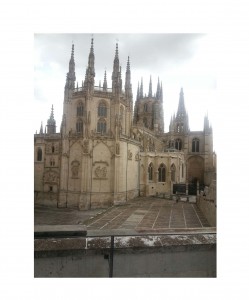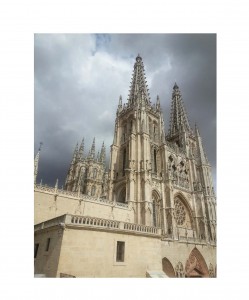 Above: Borges Cathedral. It is breathtaking, so buckle up!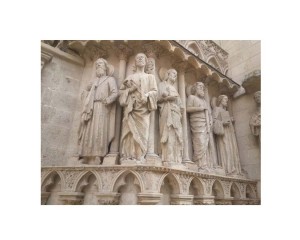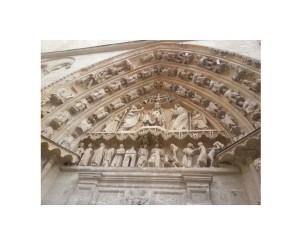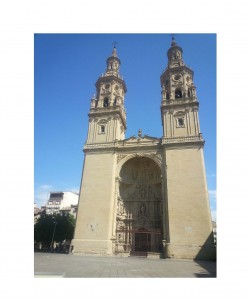 Above: some additional close up views in Borges Cathedral. The last picture above is a cathedral in Logrono. This one dates back to the 1300's!
Look closely at the backpack in the picture below! I am pointing to the picture on the backpack poster and the real view is behind me. You may need to enlarge it a bit. Hopefully, you will see I am sitting in front of what I am holding! All for now. Connectivity is very spotty. Prayers to our patients and families, clinician, donors, blog followers, friends and family. God Bless!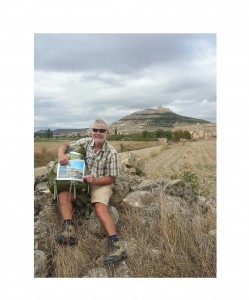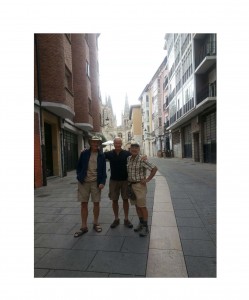 PS — Met some extraordinary British mates, Mike and Paul, who befriended me and with whom I have had great fellowship – Buen Camino
9/13/14
WALTER – Happy Anniversary on Saturday to Andy and Jill!!
Here are a few more pictures of my recent treks.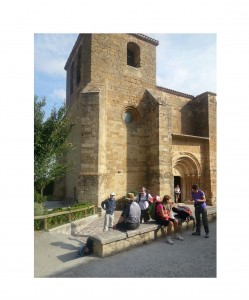 Saints Andrew and Dominic — My sons Dom and Andy have namesake recognition on Camino.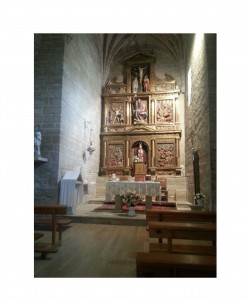 Interior and exterior views (above) of the striking San Andres (St.Andrew) Church are shown. I lit a devotional candle here. My godmother, Aunt Angie, often lit such candles. These electronic devotions are available at St.Vincent Salem and Dunn!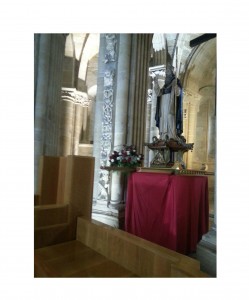 St.Dominic made significant roadway contributions to Camino and is revered for a lifesaving miracle. And, St.Andrew, of course, was an apostle of Jesus.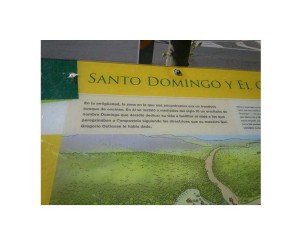 Dom (Santo Domingo) has an entire village and a beautiful cathedral bearing his name. Here is one of the historical markers.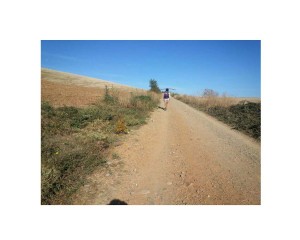 Balancing Acts — Camino produces interesting ways to use your time while walking 500 miles!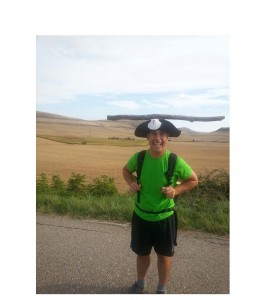 Fernando shows me how!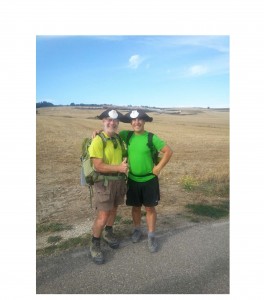 And, I successfully do the balancing act… sort of!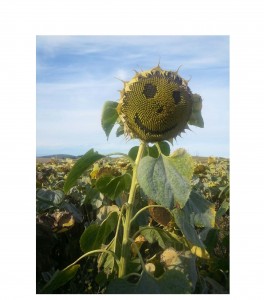 Cheers from Camino! Thank you for your prayers, and your messages, and your prayers and your donations!! God bless.
9/9/14
Here are some random views from the last 24 hours of Camino with small descriptions.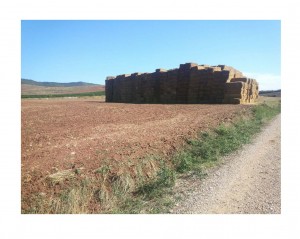 Wheat in rectangular bales in a stack maybe 30′ feet high x 100′ long and 40′ wide.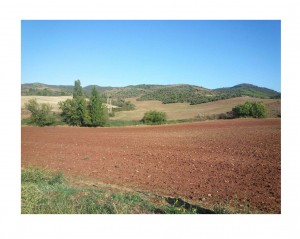 The rich red Spanish earth amid the rolling countryside.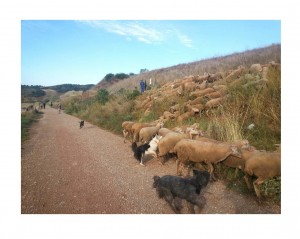 A shepard and his dogs managing a huge flock of sheep I played chicken with! Another view of the sheep below.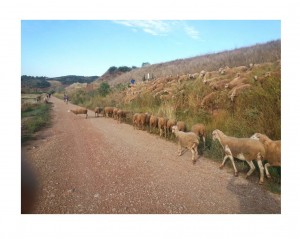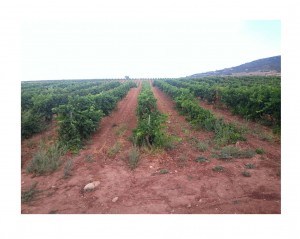 Minutes before the sheep excitement, a staple crop in Spain grows. First blog follower to identify the crop wins a prize!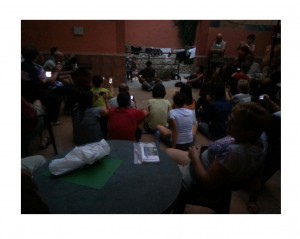 Musical entertainment at the overnight hostel. It was a tranquil and rich version of karaoke in Spanish and Japanese voices.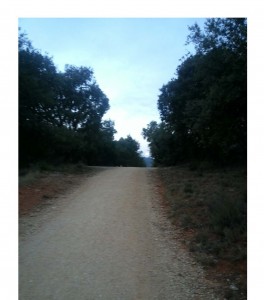 The Camino less traveled — I was hoping you would be able to see the near full moon setting above the road. I was out by 6:15 to beat the heat!
9/8/14
WALTER — Only 419.3 miles to go! On my own now as my Columbus friends are home or elsewhere in Spain. The hot weather is in the 90's. Fortunately, overcast skies have helped. Spanish food is really tasty and agrees with me. The church buildings are incredible. The beautiful Catholic Church I am down the street from dates to the 12th century. It is the Church of San Pedro de la Rua in Estella, Spain. It has been here since before St.Vincent was born, and no, that isn't my bike! Please continue your prayers for my trek and partner with us to fight childhood obesity.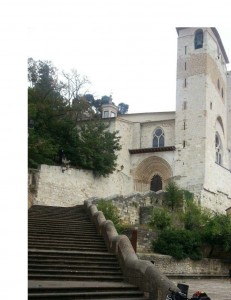 9/6/14
WALTER — Thistles along Camino remind me of the beautiful Beatitudes stained glass window at the St.Vincent Jennings Chapel!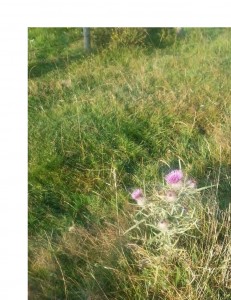 9/4/2014
WALTER — With my Columbus friends. Camino commences from France on Wednesday morning. Haro's, Eckerly's and Waltero!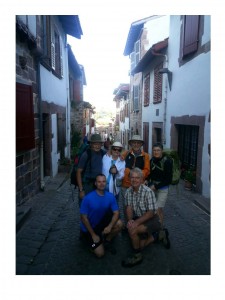 WALTER – Crossing over from France into Spain. Eduardo Eckerly and Waltero after a major league morning climb over the Pyrenees Mountains!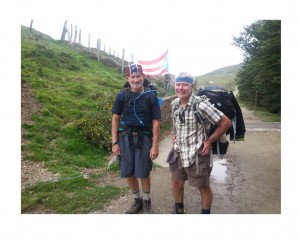 9/2/2014
WALTER — Today I am on the bus to Pampalona, Spain (where they run with the bulls!) Then, on to St. Jean where the trek will begin tomorrow!
8/31/2014
Farewell selfies with the family! These pictures were taken on Sunday before I left for my flight. The first picture is with my grandson Drew Glvoer and his parents, Andy and Jill, along with Lori. Second picture is with my granddaughter Siena Glover and her parents, Dominic and Kathryn, and Lori.  
Photo at the top of the page: Mount Columbus — Walter standing at the top of the Observation Tower at Mill Race Park in Columbus, Indiana. Walter will fly to Spain for the El Camino/Way of St.James trek on August 31. As the banner indicates, Walter will be raising funds for THREE hospitals this year. St.Vincent Jennings Hospital in North Vernon, Indiana recently reimplemented the LIFE program.
08/21/2014
500 MILES OF EL CAMINO / THE WAY OF ST. JAMES IN SPAIN
Buckle Up – Here We Go Up (And Down) Again:
El Camino / The Way of St. James beckons!
i will be trekking 500 miles up and down and across Spain beginning in the Pyrenees Mountains of France in early September. And this climb / trek intends to raise more money to combat youth obesity for the clinics at the Southern Indiana St.Vincent ministeries. Farewellin and departure are a few sunrises away. Six weeks later on 11 October  – God willing  – the adventure will reach a successful conclusion in western coastal Spain. 
So "Beunos dias" and hello from 2trek4kids.
Remember me

? ! 
It's been several months since you have received an update !
And those days have been full.
The Update: 
-The youth weight managment prevention / treatment programs are successful! Enrollment in the L.I.F.E. (Lifetime Individual Fitness and Eating) youth weight management clinics at St.Vincent Salem, St.Vincent Jennings, and St.Vincent Dunn continue to progress with almost 100 children having participated. The youth and adolescent patients have lost weight; More importantly, their BMI (Body Mass Index) scores have been lowered. And the clinicians report the kids have had a lot of fun while learning their new skills.
– Funds raised from you wonderfully generous donors to the three St. Vincent clinics exceeded $110,000 before the Camino fundraising campaign began. With the advent of the current expedition's fundraising, already we have received numerous gifts small and large, including a number of leadership gifts to all three ministeries. The donations are primarily used for scholarships for kids to participate in the clinics. Notably, several of these recent Camino gifts have come from first time givers to 2Trek4Kids. All donations are welcome.  In addition, some of the funds raised for the program at St.Vincent Salem are being used to purchase exercise equipment to be used for the LIFE program.
– A non-fiction book chronicling my expedition experiences on five of the world's seven summits mountains (+ two Rainiers) was begun after I returned from the Rainier II Re-do Climb in June, 2013. I completed the manuscript 365 days later – vigilantly working on it every day throughout the year. And, a publisher has expressed interest! More work is ahead to be sure. The themeatic of the book concerns the spirituality of the mountains. A portion of the proceeds (presuming publication and sales)

will benefit 2trek4kids.  
– Since retirement on St.Vincent's birthday in April 2013, my time has been richly full – "The only problem with retirement is you don't get a day off," said Blurb Klingelhoffer; and I agree with his humorous / sage sentiment. My volunteerism inclues a bereavement role with the patients and family members at Our Hospice of South Central Indiana in Columbus, continuing my long-time bereavment role with Wings for the Journey for moms and dads who mourn the death of a child in the Bartholomew county area, accepting an invitation to begin a loss group for the Mill Race Senior Center for bereft spouses in Columbus, and helping coordinate the Indiana Healthcare Bicycle Challenge to combat youth obesity. Did I mention continuing to raise awareness and funds for 2Trek4Kids?
-Grandchildren are such a gift. Granddaughter Siena is five; Grandson Drew's arrival is news to many of you, since he was born just before Thanksgiving. My sons and their lovely wives and the grandkids are wonderful families.
-If you don't already know…Lori is back in Indiana from Colorado Children's Hospital – gift. Can it be four Summers ago that we stood atop the summit of Mount Elbrus in Russia ? !
-My Medical Dream Team at the St.Vincent Heart Center and here in Columbus recently evaluated my wellness at A+ – praise the Lord. Imagine a fella with three aneurysms and a "graduate"  of open heart surgery pointing to five of the Seven Summits, two Rainier climbs, and now toward a 500 mile trek. How blessed am I?
-And, my training goes well for Camino. I am eager and thrilled for the next challenge. I feel humble, confident and poised for the adventure ahead – a pilgrimmage rich with sacred tradition and Catholic history; Although our St.Vincent, the historical figure himself, though ministering in France "next door," apparently didn't journey this way. The trek is up and and down and across Spain, beginning in the Pyrenees Mountains. We go up as high as 5,000 feet (well 4,490), and we trek 500 miles (well 496) from start to finish. The guidebook suggests some of the most arduous (meaning mountainous routes with lengths of 18 and 19 miles a day) are at the beginning and end of the trek. Just when you're getting started / finishing up – Who planned that? Say prayers!
-You know what is coming next

:
I have attached the brochure for the Camino expedition above.
As the brochure says:
"There is no finish line in helping overweight kids.
"2trek4kids intends to downsize youth obesity.
"And to do that, amid struggles for funds, we need you." 
And we need your checkbook :).
And your prayers.
Please partner with us. All gifts are invited and welcome. If you are in a position to consider a leadership gift of $1 a mile ($500), that would be awesome generosity.
What does Scripture say about God loving a cheerful giver?
If you wish to trek with me in Spain – Hurry up and get in touch ! 
And while you can't be alongside me in Spain, you still may – "Join the Camino Expedition."
With this email we are re-activating the expedition blog. Presuming all international connections work as expected, I will send reports back from Camino to you blog readers. And, you can send notes of encouragement to me, if you wish. I will appreciate all the cheerleading I can get! Not to mention your prayers. The blog site is:
2trek4kids.org. 
Thank you for reading.
May God bless you.   
Wally 
(Waltero = name in Spanish

__________________________________________________________________________________________________
22 Oct 2013
Happy Autumn and Happy Anniversary.
What we call Indian Summer in the flatlands of Indiana has begun – beautiful crisp mornings; golden sun bathing red, yellow and green tree leaves with a bright sheen; some gossamer spider webs still blow in the fall breeze their tenants MIA, and the final crickets' song sounds. One year ago today, 22 Oct 2012, I began the first day of the rest of my life with open heart surgery. Nine months later in June you may know I was back at Mount Rainier for the Re-Do II Climb. A year after open heart surgery my wellness is A+; Thanks God.
Above is a picture of Walter pointing to the summit of Mount Rainier!
This is a brief update on my time since Rainier II. I expect this will be the last update until the next expedition – in 2014 to Spain…El Camino, The Way of St. James.
NEWS MEDIA SITES
2 Trek 4 Kids, the mountains and I were recently featured in the news media. Information on sites is noted below.  
– WTIU is the PBS station at Indiana University in Bloomington. To see the video, Google WTIU, then Weekly Special, Indiana Spotlight, find me and the mountains, and then scroll to bottom to view the full episode – it takes about six minutes of screen time. I so appreciated WTIU's contacting me and Sarah Curtiss' creative profile.  
– Facetofaceradio.com aired a program a couple of weeks after WTIU. A Christian radio program that interviews many baseball major leaguers, other pro athletes, as well as amateurs, the station was interested in the mountain climbs and how they have served as my witness. Tom Rust did an amazing job. Google the sight – On the home page I show up between major leaguers.
– And "The Criterion," the Indianapolis Archdiocesan newspaper, captured the spirituality of the mountain climbs and how this has informed my theology and life in an article back in August. We'll try and get "The Criterion" piece on the 2Trek4Kids blog site under the "Media" tab. John Shaughnessy wrote a profound and rich article.
NEXT
The Way of St. James, a trek across northwest Spain which requires a month and more of daily trekking (over 500 miles total), will be my next fund-raiser. It will be deeply spiritual as I trek where the Apostle James (New Testament) evangelized. My quest for the Seven Summits will preclude Antarctica's Vinson Massif and Denali/McKinley in Alaska. In consultation with my Medical Dream Team and through my own pondering, prayers and prudence, I have imposed a ceiling of 14,000 feet for future expeditions. Heck, Colorado alone has 50 14teeners I'm told. Fundraising for youth obesity, and for children, continues; The climbing emphasis was re-imagined.
There are dozens of sites about El Camino on the internet. If you would like to learn more Google: Spain -The Way of St. James or visit Wikipedia, it has a detailed explanation about the trek. There is also a YouTube entry entitled "The Way of St. James – More Than Just a Journey" is a colorful four minute video.  
IN APPRECIATION
Speaking of Colorado, Lori Walton, RN BSN, who brought L.I.F.E. for Kids, the clinical weight management program model to our three southern Indiana hospital ministries, has re-located to Colorado. There she will continue to work with young obese patients through the Children's Hospital Colorado in suburban Denver. Her new location is one of the top children's hospitals in the United States. Thank you Lori for a-l-l you did for St. Vincent Jennings and Salem and Dunn – and of course for what you did at St. Vincent Peyton Manning Children's Hospital. May God bless you and your transition.
RETIREMENT
Some notes from my retirement, in progress six months on 25 Oct:
-I am now volunteering with Our Hospice of South Central Indiana in my community of Columbus, in a bereavement role. I continue my volunteerism with Wings for the Journey in Columbus, a group for moms and dads whose children have died. And I continue volunteering with Baptist Homes of Indiana's Ministry on Aging.
 -I resumed trekking having taken the summer off. Yes my 22 pound back pack still has kitty litter – yes, fresh kitty litter. I cross-train – mostly on a bicycle; occasionally I play tennis.
-I listened to many of you, at whose urging I have commenced a book on the mountains – the working title is "Seven Mountain Story." If you think I have a lot to say – Get this: The book already is at 157,000 written words :). The esteemed Thomas Merton wrote a book called "The Seven Storey Mountain"…Hope you excuse my title Fr. Thomas. He was one of the great Catholic thinkers.
-And, drum roll, I have more time with my sons and their families, and the arrival of a new grandson is imminent.
LASTLY
You know I couldn't write to you without kindly asking you to continue your support for 2Trek4Kids. May I ask you to please consider one more donation this year to help St. Vincent Salem or St. Vincent Dunn, in Bedford. Dunn has more kids enrolled than ever in its youth obesity program; the Salem program runs at near capacity. Your dollars are used primarily for scholarships to subsidize children enrolled in the program. We have been blessed by your past generosity. The expeditions to five of the Seven Summits and the two Rainier climbs have raised awareness of youth obesity and have raised $102,000 to treat it in southern Indiana. How about one more donation this year, please? I'll not ask again…until El Camino next year :).
Checks are payable to either:
-St.Vincent Dunn Hospital Foundation, 1600 23rd St., Bedford, IN47421.
-St. Vincent Salem Hospital, 911 N. Shelby St., Salem, IN, 47167.
Note 2Trek4Kids in the memo line. All donations are tax deductible.
God bless you, Walter