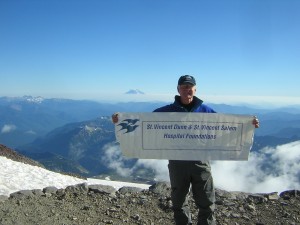 GOOD NEWS / BAD NEWS / GOOD NEWS
St. Vincent Doves flew at Camp Muir, WA,
12 Sept 2012, The Doves banner is held by mountaineer Walter Glover, Chaplain at St. Vincent Salem and St. Vincent Dunn, who stands at an elevation of   10,060 feet. Alas, Glover was unable to summit the 14,000 foot iconic peak in the Cascade Range. He   suffered fractured ribs  from a fall. Eight months earlier in Argentina, Glover stood at 21,000 feet…11,000 vertical feet or two miles higher than he would at Rainier…Crestfallen was he.  
Walter said: "There's a  blessing in being thwarted. A chest X-ray of my ribs at a little hospital near Mount Rainier – MortonGeneralHospital, identified an aortic arch aneurysm. Subsequent exams at home revealed two more aneurysms. I was dumbfounded – Wasn't I in the best shape of my life ? The three aneurysms are located in three different body systems which I'm told is fairly unusual. I am a patient of what I consider the medical dream team at our St. Viincent Heart Center in Indy. There are so many divine connections starting with the fall it is incredible. You  can link the dots in this and map a mountain route that would get you from lower camp up to the next camp in a snowstorm. "God writes straight using crooked lines," my friend Rabbi Arnold might say. Surgery at the St. VincentHeartCenter is 22 Oct – It is the first day of the rest of my life. I am hopeful / expectant. Thank you for prayers. Thank you also for trusting me to do what I am instructed. Please: "Do not fret" (Psalm 37) nor nag nor emit any kind of negative energy. The next mtn – Well the Pause Button is engaged as I focus on surgery and rehab.
 "All Climbs – $92K raised for youth obesity. Thank you. God bless you."
Waltero
TIME TO   "GO UP  !"    AGAIN –   FOR THE KIDS 
Seven months ago I returned from climbing Mount Aconcagua in Argentina, and now it is time to "Go Up!"  again for the children to raise more money for youth obesity.
I will remain in the United States for the next mountaineering challenge. I head to Mount Rainier in Washington state on Friday / 7 Sept. As much as this majestic and hazardous mountain represents a summit, it moreover is a training area preparatory to Mount McKinley / Denali in Alaska. Mount Rainier is where climbers go to learn and to demonstrate competencies in order to, hopefully and God willing, get their ticket stamped to go to North America's Seven Summits mountain – Denali. That would be in May, 2013. Not everyone gets to proceed to Alaska. I will be with Rainier Mountaineering, the premiere guiding group in the United States whose founders were among the first Americans to summit Mount Everest. I was with RMI at Aconcagua in Argentina in January and have so much respect for lead guide Gabby, and for Pete and Gilbert who guided our group there. I had a lot to learn and they were patient teachers with a good sense of humor. I have more to learn and Rainier's curriculum of practical study is as rigorous as the mountain itself.  
BEST CONDITION
This I know – I am in the best shape of my 64 years (turning 65 in February). I am confident in my preparation.  Although, as a Hoosier flatlander, I simply don't have the opportunity to train at elevation regularly.  At Aconcagua, I stood at 21,063 feet, which was a little below the summit, but nonetheless a personal elevation best at four vertical miles high. They say the people who acclimatize best are the ones in the best condition. For Mount Kilimanjaro I may have trekked more miles in training, but for Mount Rainier I have more than logged many, many trek miles. Those miles are routinely with trek poles, in trekking boots,  and carrying a pack that weighs either 33 pounds, or 44 pounds. (Yes, if you're asking – I still put kitty litter as weight in my pack; Yes again – still clean kitty litter…Why is because it fits easily in a pack + the bag tells me how much it weighs). Week ends when I mow the garb changes somewhat as pics will tell this story. Week ends also mean more training minutes. Last time I checked  my average miles a week numbered 35, as I remember. Also, I have been intentional around cross training including bicycling (longer distances on week ends), tennis, some distance swims, and interval training. I hope I will prove to be an endurance athlete with the necessary strength and motor skills.
As I write this a total of $90,000- has been raised to create three youth obesity prevention / treatment clinical programs at our rural Southern IN St. Vincent Hospital ministeries in Salem, North Vernon, and Bedford. A four figure gift was just received this morning at Salem ! Like Kelly Peisker of St. Vincent Health has said, "L.I.F.E. for Kids is one of our programs that so authentically bespeaks the St. Vincent mission of providing hope and compassionate and competent clinical care to the marginalized." L.I.F.E stands for Lifetime, Individual, Fitness and Eating – a holistic healthy lifestyle program for children.
THANK YOU / BLESS YOU
Let me thank you and God bless you for your many prayers, and for your generous financial gifts to create and to sustain youth obesity programs first for St. Vincent Jennings, and now for St. Vincent Salem and St. Vincent Dunn where I minister as the Pastoral Care Hospital Chaplain  The money you donate has been used for equipment, supplies, training, and much of it for scholarships for children and families  unable to pay their way.  Lori Walton R.N. BSN, has taught local clinical leaders to model their youth obesity prevention and treatment programs  after the one she co-founded and directs for Peyton Manning Children's Hospital at St. Vincent. Geography and travel distance and time constraints make it impractical and expensive for the children of Salem, Bedford and North Vernon to seek treatment in Indy. So we imported the PMCH program and Lori's expertise.
St. Vincent, in partnership with you, is making a difference in the lives of children. At St. Vincent we say – "If not us – who? If not now – when?" When you make a gift to 2Trek4Kids for mountain climbing to fight youth obesity, we hear you echo what we say. Hear our grateful "Thank You" in response.
Here are some pictures that might generate a good laugh. I know my neighbors seeing me training as I mow my yard get a big laugh watching me. When I mow the yard, I wear my 44 pound back pack…Put on my double insulated plastic Scarpa boots…and Strap my crampons onto the boots – all part of my mountaineering gear for Rainier. Glimpse these pics ! It's part of all my efforts to get a daily average of 120 minutes a day of cardio training….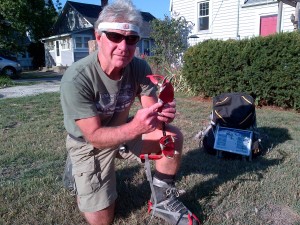 DEDICATION
Each of my climbs (there's a list of the mountains on the attached Rainier brochure) has been dedicated to three groups:
 -The children and their families who participate in L.I.F.E for Kids.
-The clinicians who support them with their competency and compassion, and to
-The donors and sponsors like you who support me and us with your prayers and financial gifts. Thank you. God bless you.
BLOG
I will endeavor to blog back some news on my website:
rmiguides.com/blog.
My expedition is called  "Expedition Skills Seminar Muir," and my guides are Mike Walter, Jake Beren, Jason Thompson, Katie Bono, and Sean Collon. This information may help you find the right blog as RMI simultaneously has climbs going on around the world and much news gets posted. Our climb and training begin Sunday / 9 Sept.
Namaste
(Translated from the Sherpas, the wonderful porters at Everest as: "The divine in me greets the divine in you" – a greeting offered with a bow and hands clasped to the chest.)
Waltero
(Argentinian Name

P.S.
An aside about Seattle where I will land before driving two hours south to RMI headquarters at Ashford. During the 1940s, before my brother and I were born, my mom and dad were in Seattle for dad's U.S. Navy training before he shipped out to the South China Sea war theater. I don't know or remember the story but they must have done a week end day trip to Mount Rainier. My boyhood home had a rock resting in a window shelf that my mom said "came from Mount Rainier." So in a way I am going back to where my folks, God love them, spent some time…before kids…before war.  Maybe I'll walk where they walked….